Brompton goes on a road trip!
Brompton ambassador Lennart Pagel tells us about his summer trip through Europe with his girlfriend, his van Gilbert and his two Bromptons. From Austria to Slovenia, then on to Croatia, Montenegro, Albania, all the way to Greece, plus two quick city trips to Vienna and Budapest.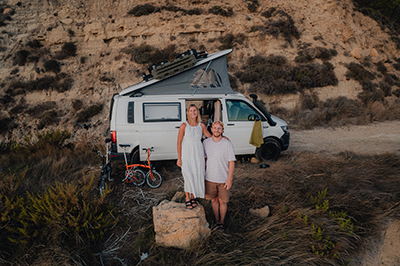 Our plan for summer 2021 was to spend it on the road, always chasing the sun. Destination: Greece! Apart from that, we barely planned anything. We wanted to stay flexible, go with the flow, stay in the places we liked best. So we went and loaded up our converted camper van Gilbert, with all the stuff you need for a road trip, like snacks, camera equipment, paddle boards, and of course our two Bromptons as well. They perfectly complement the van – when they're folded, they hardly take up any space, and you can stow them under the bed and take them out again just as quick.
And... we were off! Our first short stop was Gosausee in Austria. We were greeted with the most beautiful alpine panorama when we woke up in the morning by where we'd parked. Goal of the day – ride around the lake on our bikes. And as soon as we felt the wind in our hair, we were officially in holiday mode.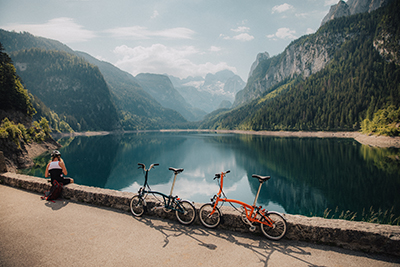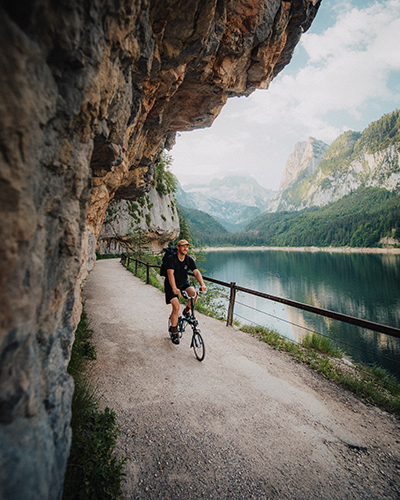 Slovenia was another beautiful place we travelled to on our journey. Driving along the crystal-clear Soča river, we found our way to our first parking spot and ended up staying there for a few days – there was simply too much to discover here. In addition to the wonderfully wild nature, we also explored some Slovenian old towns, all very enchanting with their small, winding streets… perfect for – you guessed it – our Bromptons! Some places were too complicated to reach by bus (narrow streets and all) and too far away to walk, but offered us the perfect opportunity to take a little bike trip.
And that's what we did for the rest of our tour as well – no matter where we found a place to park, the first thing we'd do was to unfold our bikes and explore our surroundings. We traveled along the Adriatic Sea through Croatia, Montenegro and Albania in the same way, finally crossing the border to our destination after a night spent behind the wheel. We were now in Greece.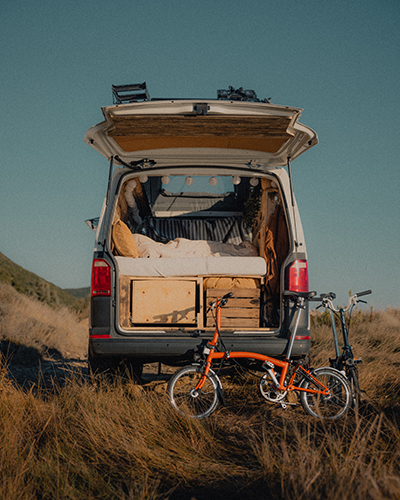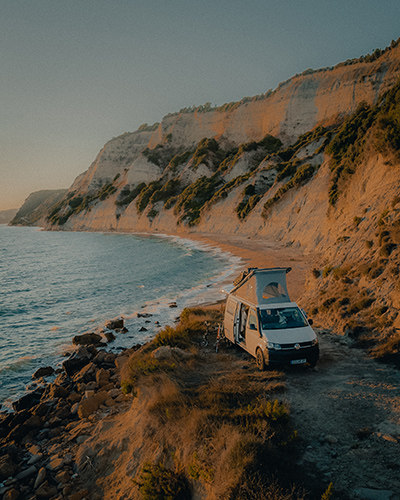 And the country welcomed us with open arms. No matter where we'd set up camp in Greece, the people we met were incredibly friendly, interested and helpful. After crossing through the beautiful interior of the country with its impressive green and mountainous landscape, we reached Athens – and could hardly believe how far we'd driven! After two days of sightseeing in this fascinating and historically significant city, we were ready for some beach, sea and island vibes.
And so we headed for our final destination, crossing the Mediterranean over to Corfu on the ferry. Here we found the most beautiful place to park yet, on a rocky hill offering an extensive view over the sea and one of the most beautiful beaches in Corfu – relax to the max! It was clear to us right away that we'd stay here a while. We enjoyed unwinding for the remainder of our trip and didn't move from this spot until our day of departure. We managed to go everywhere we needed to on our Bromptons anyway, riding out to explore the island, buy food and sometimes ending up in one of the many small restaurants, where we enjoyed the finest cuisine and general kindness of the people. With all of this on offer, Corfu really became a highlight for us.
As wonderful as our little road trip was, all trips must come to an end at some point. It was time to head back. We chose a different route back than on our outward journey, planning to stop and explore two more cities – Budapest and Vienna. Thanks to our bikes, we were able to cruise through both of them in a flash and experience a lot within only a few hours! After our last coffee in Vienna, we folded and stowed our bikes for final time on this trip and made our way back home.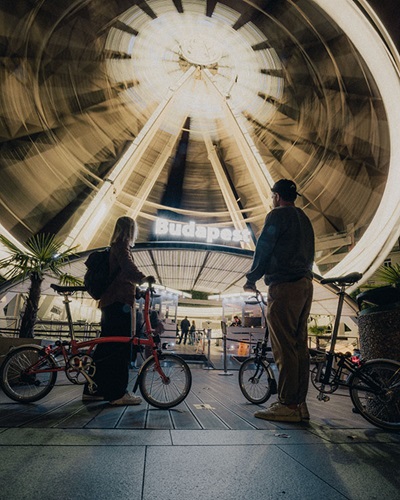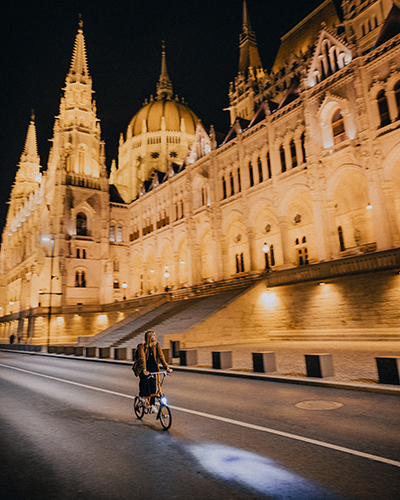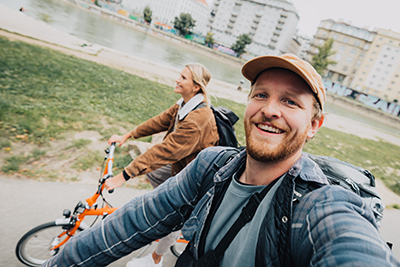 In summary: Brompton and the van life fit together perfectly. For us, it's maximum flexibility and freedom, whether we're in the city, in the country or at the beach! And one thing is certain – our Brompton bikes are definitely coming with us on our next trip in the van.