For the full specs of your Brompton, please refer to the spec sheets under each Line. These specs are subject to change at short notification because of supply chain challenges. Most options can be purchased here.
GEARING OPTIONS
Brompton uses a range of gears that are best suited to the multipurpose functionality of the bike and the wide range of riders that use a Brompton bicycle.
Internal gear hubs are a well-proven design and are simple to use, adjust and maintain. They add a little weight but give an incredibly long service life in normal use. Our exclusive 2-speed freehub is super light and extremely reliable. The Brompton derailleur system is designed specifically to give optimum shifting on the short stays and small wheels of the Brompton bicycle.
We offer different gear options across our Lines:
2 speed- A unique Brompton designed changer mechanism and shifter. Mainly oriented at flatter riding conditions, two gears allow for a slightly lower gear range for the occasional low hill.
4 speed - Ideal for urban riding and our lightest gear set up.
3 Speed- Three gears allow the rider to tackle varied terrain with a super reliable internal hub that needs minimal maintenance or adjustment.
6 Speed- This redesigned Sturmey Archer hub combines three wider internal gear ratios and our compact 2-speed gears externally to give a total of 6 gears. This will help to tackle hillier and more diverse terrain.
All gears can be reduced (to make them lower) by changing the front chainring for a smaller option.
2-speed bikes come as standard with a 54T Chainring giving gears matched for speed. 3, 4 and 6 speed systems use a 50T chainring to give a wider overall range. So, moderate speed but reasonable hill climbing too.
Brompton bikes can also be fitted with a 44T chainring reducing the ratios by 18% for very hilly conditions.
In all cases, the chain length will need to be adjusted to accommodate the new chairing size.
All three chainrings are interchangeable, having a 130mm BCD so some experimenting is available for the more adventurous. The largest rear sprocket that can be fitted on 2 and 6 speed systems is 16 teeth.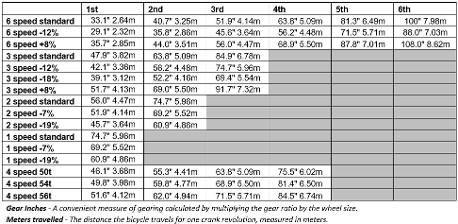 LIGHTING OPTIONS Lighting options
Brompton offers two lighting systems which work seamlessly with the folded package, meaning they are protected from damage.
Rear Battery Lamp
Brompton's detachable lighting consists of an LED battery operated rear lamp with an integrated reflector, designed especially for Brompton. This rear lamp is also a strong bright, light, and secure mount.
The rear battery lamp can be purchased from our website here or through your local Brompton retailer.
Cateye Rapid Mini - USB Rear Light
There is also an option to add a USB rechargeable saddle light, which comes with a bracket to fit onto the back of the newer Brompton branded saddles. Please note that there is an adaptor available to fit this light to a Brooks saddle. Please note this adaptor is not retailed by Brompton but is availble from Cateye stockists. 
The Cateye Rapid Mini -USB Rear Light can be purchased from our website here or through your local Brompton retailer.
Brompton 500lm Front Light
Brompton all-new powerful headlight. 500 lumens of rechargeable wide-beam light. Designed for a perfect fit on your Brompton. Made with world-leading light manufacturers Cateye.
The Brompton 500lm Front Light can be purchased from our website here or through your local Brompton retailer.
Hub Dynamo Lighting
Our SP (Shutter Products) SV-8 hub dynamo offers a very reliable fixed lighting solution. The SP SV8 is a small, lightweight dynamo hub; built into the Brompton front wheel to provide the power for front and rear lights. A cable runs from the front wheel to the rear light and means you never have to remember to charge or pack any lighting. This option, if not purchased with a Brompton, will require the front wheel to be replaced. For this reason, we recommend contacting a Brompton retailer who will be able to order and fit the Dynamo Hub to your Brompton.
Lights are fitted on Brompton bicycles in place of reflectors. It is also possible to fit reflectors into the spokes and/or mount the front reflector on the handlebars.
Please note that in France, bicycles come as standard with the front CatEye and rear battery light as well as reflectors on the wheels.
 
TYRE CHOICES
Brompton offers four tyre options. They can come with Black or Tan wall tyre walls:
Schwalbe Marathon Racer: Good durability, with a puncture-resistant belt under the tread, low rolling resistance, medium weight and reflective sidewalls. A desirable choice for normal riding conditions and surfaces.
Schwalbe Marathon: High durability due to more tyre compound, a puncture-resistant belt under the tread, but greater weight and rolling resistance than the Marathon Racer. Reflective sidewalls. An excellent choice where durability is more important than lightweight, smooth riding.
Schwalbe One : This smooth tread tyre with a tan-coloured wall is now available as an upgrade for any Brompton bike. It is slightly wider than our other tyres but fits all the rims on all our bicycles. The fastest, lightest and grippiest tyre ever made for Brompton.
Continental Urban Contact : The Continental Urban Contact Folding Tyre is designed for city riding, packed with puncture protection technology. This folding tyre offers lightweight rolling resistance, increased grip, greater levels of comfort when you ride across harsh surfaces, and excellent puncture protection making cycling in urban environments fast and effortless.
All Brompton models must be fitted with 16" x 1-3/8" tyres, as well as an ETRTO 37-349 Inner tube with Schrader valve, with the exception of T Line which uses Presta valve.
Tyre options can be purchased from our website here or through your local Brompton retailer.