Cycling Club? Team? Collective? All we know is The 5th Floor is a group of good mates that like riding and racing bikes.
The 5th Floor has been around since 2009 and used to meet up on the 5th Floor of an East London car park (thus the name) on fixed gear bikes, drinking beers, doing skids and attempting to wheelie. Since then, they took their 'fixies' to the velodrome, discovered gears, took to road racing, then cyclocross, touring… and now Bromptons.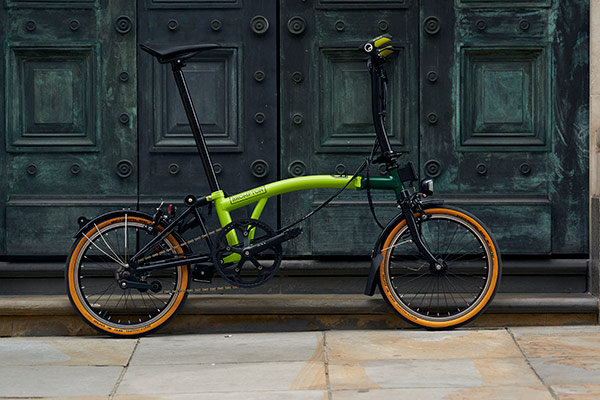 What would you have said 10 years ago if you knew you'd be riding a custom 5th Brompton?
If you'd told us on that rooftop a decade ago we'd be riding Bromptons and have the same grin weaving through traffic as we did fixed gear - HA. We would have probably naively told you they 'weren't cool' or something. How wrong we would have been.
Riding a Brompton has genuinely changed the way we think about what a bike should be or do. 
For years we've locked our bikes outside offices and pubs and just lived with that little fear in your head that it wouldn't be there when you came out. Folding it up and having it under your desk is a game changer.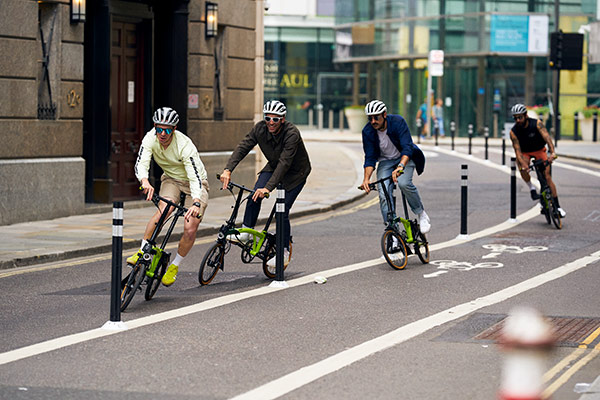 You all ride other bikes from Track, Road and even MTB and now Brompton; what is your favourite to ride?
Everything is so different, that's what we love about riding. Your mood, weather, job, time can affect what bike you ride and why. But each bike has a purpose, one thing it does really well. As we've grown up, some bikes have become more functional - four of the team now have cargo bikes!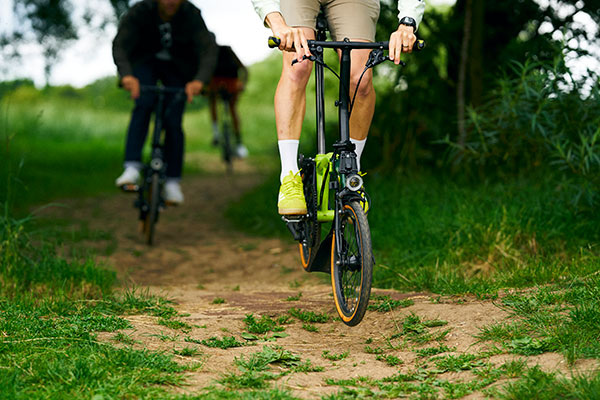 A Brompton is equal parts form, function and fun. The form comes from being designed purely for its function - a folding bike. It seems so simple but when you start looking at it, the custom parts and the way it works, it's a thing of beauty. And it is genuinely fun to ride - small wheels like a BMX, nippy steering and surprisingly fast.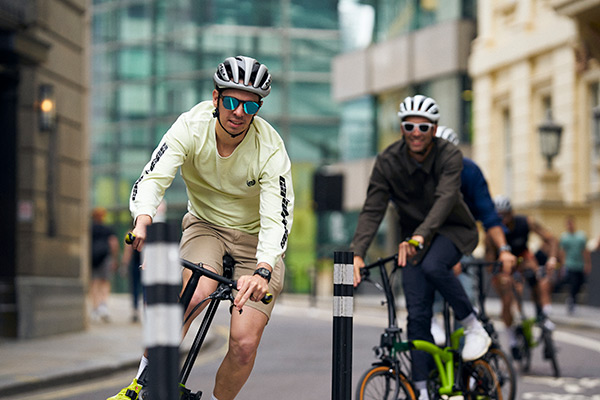 How does a Brompton fit in with your lives? 
We all have very different jobs and live all over the city, but it surprised all of us how quickly it became our go-to errand bike.
Rudy, Luke and Blom all work in creative advertising, so the Brompton has been spot on; especially as freelancers when you don't always get access to bike lockers.  Pasquale owns Santa Maria Pizzeria, he's had a Brompton for years and uses it religiously to get between restaurants (and even persuaded his co-owner to get an electric one!). Reece runs Bianca Road Brewery, if he's not hauling kegs on his cargo bike, he's nipping to customers on the Brompton. Sophie works for the DfT Future of Transport team so it's allowed her to jump on and off trains and research green travel all over London. And of course, it's the ultimate pub bike for all of us.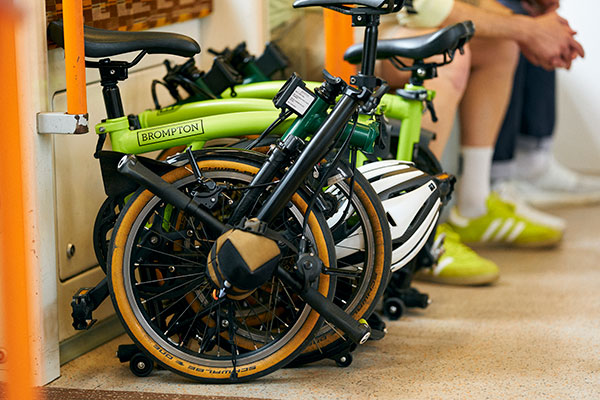 You have a bunch of Limited Edition Bromptons around London. You must turn some heads? 
Some Brompton owners are properly eagle-eyed. They know it's not a stock model from a mile off and always ask about the colors and components - the matching Ergon grips always get asked about. And if we rock up somewhere with two or three matching, that always turns heads.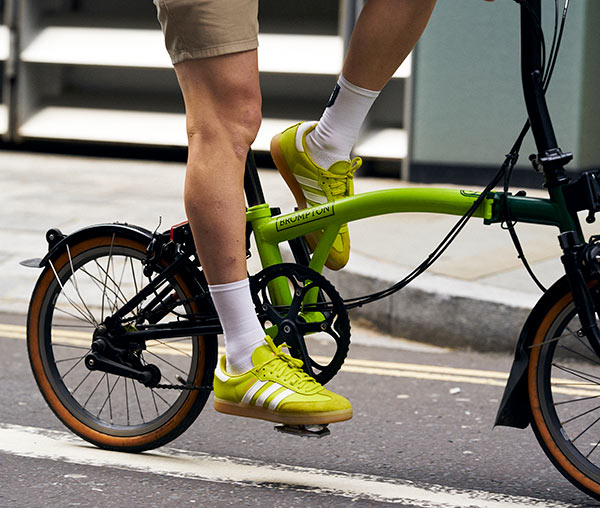 Tell us about the shoot, what was the idea and where did you ride?
When we first spoke about doing an edit for 5th, we knew immediately what we wanted to do; fixed gear vibes on a Brompton. Riding through town, having fun with mates, wheelies, pizza - everything we did on fixed-gear bikes. It feels mad to say there are similarities between the two types of bike as they're so different, but at the heart of both is riding in the city.
We met up in Bermondsey for a coffee and then headed over Tower Bridge - always an iconic place to ride and a reminder of the city we live in. From there we nipped about a few roads in The City area having fun on the quiet Sunday streets. If you've never ridden through The City, Canary Wharf - or wherever your business district is - on a Sunday morning, do it. It's like riding through an abandoned city or ghost town.
After pizza and espresso we headed North to Hampstead Heath for some off-road fun. Bromptons are built for cities but are just as much fun on trails. We jumped on the train for part of the way then spent about an hour or so in the woods skidding around, so much fun. Then we headed back home to South London, I think we ended up doing about 70km in all.
Where can our followers find you to find out more? 
Instagram is best (@the5thfloor), but in real life is even better. If you ever see the bikes or our kit, just shout hi.
The 5th Floor team in London ride a custom Brompton Superlight. You can get a regular one on our webshop, local Junction store, or selected accredited retailers.