We are creators. Everyone at Brompton plays a small part in making our bikes and getting them into the hands of people to ride, find their route and enjoy.

From the first sketches to capturing the finished article, the people behind the product make us different.

We are Brompton.
Could you tell us a bit about your role?
I am the Team Leader at the Brompton Sheffield factory, and I was literally employee number one! We started this team with an empty room and have spent years building it up, developing people and new machines.

What led you to choose to manufacture?
I was lucky. To build a career in manufacturing, you need qualifications and experience. I didn't have either, but I had the right working attitude and wanted to come in and do great work. I was trained by a coded (qualified and experienced) welder that worked in aerospace. He gave me projects and taught me to make things.
First, I became a welder. Then I became a great welder. With the support of the team in London, I became the Team Leader. Now I'm working with my mentor to develop the business structure and become a Production Manager. The thing is, here, people are given a chance. That's what it's all about.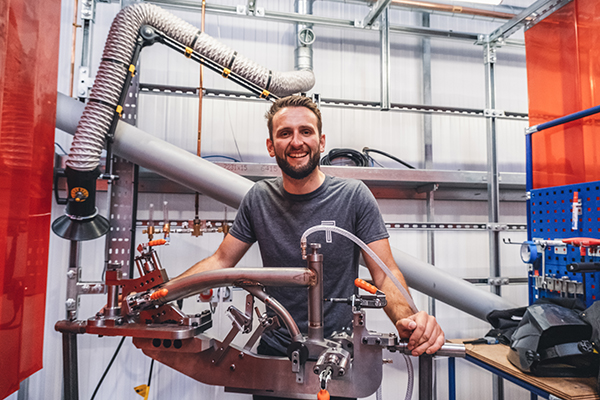 What were your first thoughts when you began working on the T Line project?
When we actually started developing it in the factory, I was really excited. I was amazed by all the design work. We had to work out how to make all the pieces fit together, get the fatigues right, and make sure our welds are at the exacting standards. We were starting from scratch.

What have been your favorite memories of the project and the most significant challenges?
My favorite memory has to be seeing the first fully-built bike. We received the box from the London factory and when we opened it I saw the frame that I had made, and I was just like, wow! I was so proud of what we had done.

My biggest challenge, or priority, is optimizing processes to make sure we meet demand. Some parts are harder to reach and weld than others. Making sure everyone is comfortable while working and maintaining the weld standards we set for ourselves is essential. It's all about going back and forth between design engineers, manufacturing, and tooling, ensuring we've worked out the best way to do everything.

In your opinion, what makes working at Brompton so special?
Progression. What is special here is that people invest in you. No one has done that for me before, well my family has, but that's different. You do a good job, and you're supported to get to the next level. We have our All Hands (everyone downs tools for a company-wide update from the chiefs), and to me, those are all about the people and giving everyone information. I love what that represents.
There are so many different roles within the business, requiring a range of skills and characteristics. Is there anyone you'd switch roles with for the day?
I would organize the All Hands! Making it as good as possible and as pleasant as it can be for everyone attending. Oh wait, maybe I would like to swap with Paul Williams (Manufacturing Director) for the day. I would be the big boss for the day, so I could see what that involves! Only for one day, though.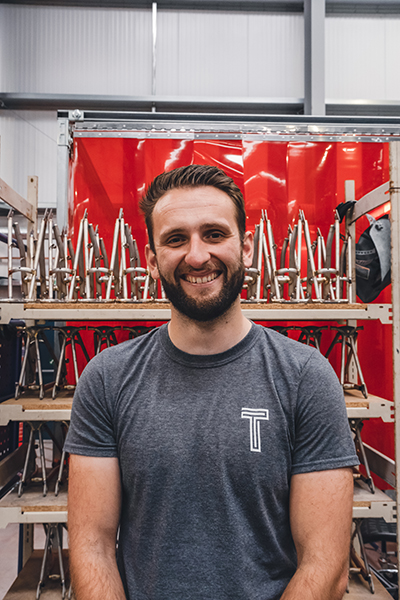 Tell us your most memorable moment at Brompton since joining.
When the whole team got invited down to London for the Brompton World Championships.

I think it was 2018. We all went down to London, and we were put up in a hotel. It was just really nice to see people out of work and chilled. We rode our bikes in London and had such a good time.

Relaxing and unwinding are always important. How do you like to spend your time outside of work?
I am never bored. Put it that way! I love cooking and playing with flavors, and when you get something at the end that tastes good, it's incredible. I do a lot of mountain biking, and I do a bit of photography. I like to take my camera to motorbike racing. I am a plane geek too, so I go to a lot of air shows. I enjoy exercising my mind, and keeping active.
It takes the hard work of every single Brompton staff member to take our little folding bikes from the first sketch to shipping them out the door.
Read more about our incredible team here.