Who are the faces behind Brompton's 2021 brochure? We gathered people from all over London and asked where their favorite places to ride are, what they thought when they saw a Brompton for the first time, and how they've seen their city change throughout the pandemic. This is Mia and Trevor Dellocca, a Digital Marketer and a Sports Apparel Designer.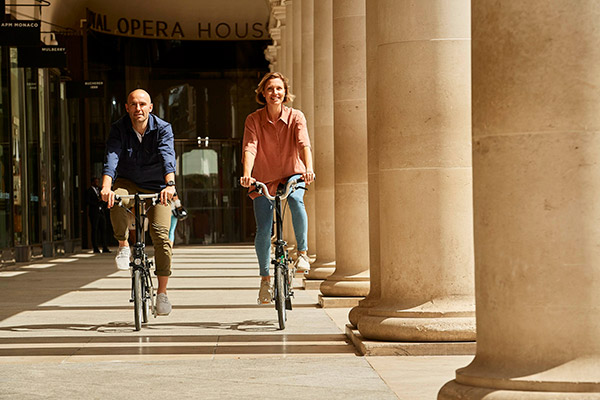 What made you get into cycling? Do you call yourself a cyclist?
[Mia] It was 2007 when I bought my first road bike after realizing that commuting in London could be dramatically improved by taking more control! I got my time and freedom back. Although, while I have my fair share of lycra, cycling is more about a lifestyle to me than just a past time.
[Trevor] I had a BMX track in the woods near my house when I was a kid, I'd go there almost every day to ride my bike and build jumps. Now I ride a bike every day to get around. I've got 4 bikes, and regularly ride 80km at the weekend for fun, but I prefer to say 'I love riding bikes' rather than 'I am a cyclist'.
Where is your favorite place to ride?
[T] I like doing mini missions on bikes. I sell stuff on Ebay and use my bike to deliver the parcels if the distance is less than 100km round trip. It's like a mini adventure - you never know what you're going to find. Have you found community through cycling?
[M] The cycling community is like no other! I remember my first mass participation event and all of the encouragement, sincere smiles and good humour throughout. Despite being a complete newcomer, I was welcomed into the fold like an old friend.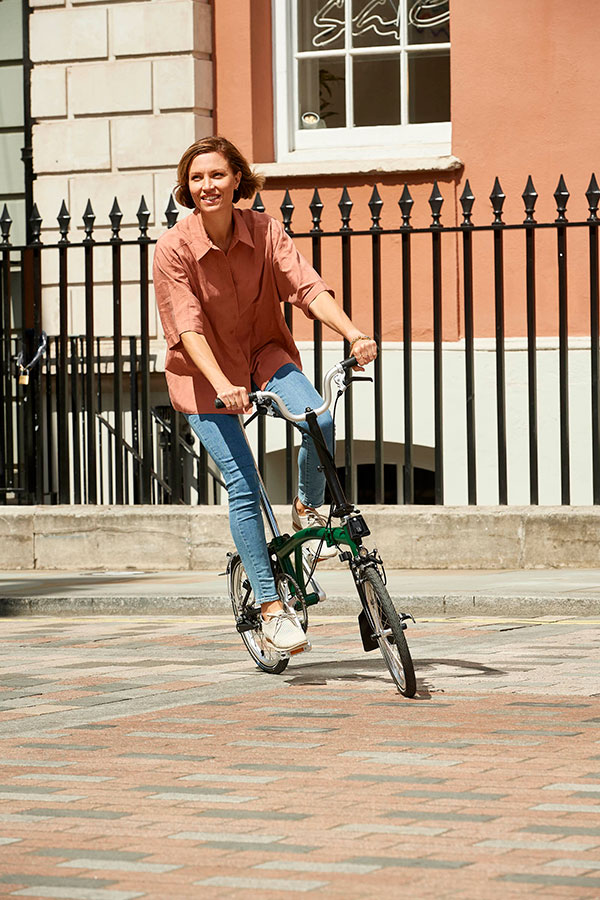 It is just you, some gear, and your bike in an unknown city (or anywhere in the world!) Where would you want to be and why?
[M] I'd like to be on the lake in Como, Italy. I love the agility of a Brompton and the idea of weaving around small streets, cafes and gelato shops. I'm there for the gelato.
[T] I'd love to take my Brompton over to Vancouver. I'm not sure if there is a big scene out there, but the city is so set up for cycling and everyone is super friendly. I like the idea of touring around, seeing some sights, grabbing a beer with old friends and answering the question "what the hell is that bike you're riding?"
Do you have any stories about a person you met because of your love for cycling?
[T] I once commented on a guy's custom Brompton mudguard - it was very distinguished and he appreciated me noticing. Now every time we pass on our commutes we give each other a little wave.
[M] I don't think that cycling would have been quite as charming had it not been for my boyfriend. We have photo finished side-by-side at big cycling events, he's picked me up when I have fallen off (getting used to my clip ins) and he introduced me to Brompton!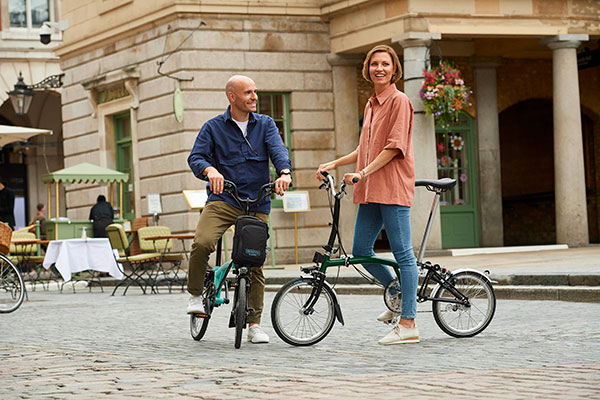 Do you remember what you thought when you saw a Brompton for the first time?
[T] Easy - There was a giant man in a suit with a massive mop of hair - I used to call him 'Lion Man'. He used to pull up outside the pub in London Bridge and have a cheeky pint at lunch times. Retrospectively I can see why this guy was so happy - he had a minibike that folded, which transported him quickly to the pub in his lunch break. You wouldn't be able to do that on foot!
Do you see that your city is changing as a result of COVID? 
[T] Definitely more cyclists! We all love to see it.
[M] Hugely. The roads were already completely transformed from what they were ten years ago with new bike lanes and dedicated signage for cycle routes. But re-entering the city after lockdown, you immediately notice that London has been going through another impressive round of cycling upgrades. It will clearly be to everyone's benefit, there has definitely been a mass and enthusiastic adoption of cycling as a direct result of COVID-19.
What tips would you give someone thinking about starting to cycle?
[T] Just start riding... it'll change your life. But please, please, please watch out for cars, bikes, scooters and any other road users - we are all in this together. Golden rule - before you change direction look behind you, this tells people behind you what you are about to do - and it could also save your life.
Read more of our model's stories here.