Who are the faces behind Brompton's 2021 brochure? We gathered people from all over London and asked where their favorite places to ride are, what they thought when they saw a Brompton for the first time, and how they've seen their city change throughout the pandemic. This is Maria David, a Writer and Journalist.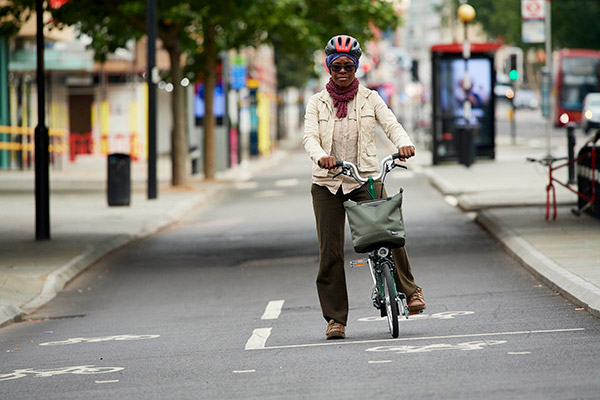 What made you get into cycling?
It was a mode of transport for me when I was growing up in a village in the north of England. Also, watching the Tour de France in the 80s looked quite glamorous and I dreamed of being able to ride up an alpine climb.
Have you found community through cycling?
Yes, I have. I have got to know many people through cycling – be it through racing, through interviewing people for the work I do in cycling, even when I have been abroad for a cyclosportive or other bike event I have gotten to know foreign-based riders that way.
Where is your favorite place/time to ride?
It's difficult to say my favourite place, as I like so many places. I must say, being a Londoner, I do have a penchant for the Surrey Hills as it is wonderful to find such a beautiful area within easy reach of home. I also love riding in the roads around Lombardy in Italy. I spent time in Milan and riding around Lake Como or up the Madonna del Ghisallo climb were actually my local rides!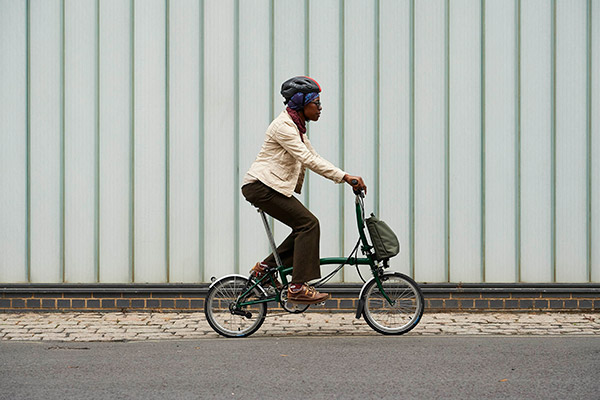 It is just you, some gear, and your bike in an unknown city (or anywhere in the world!) Where would you want to be and why?
Mendoza, Argentina! I once went to the Maipu wine region near Mendoza and hired a bike in a hope of visiting the different vineyards in the area. Unfortunately, I was only able to visit two or three of the numerous vineyards as I ran out of time and had to return the bike by a certain deadline. I would love to return there and do the full tour of all the vineyards, using my Brompton with no deadlines to meet. [My favorite place to cycle is] anywhere along the river Thames. I really like the Cycle Superhighway along the Thames that passes all the famous landmarks like the Oxo Tower and The London Eye, before arriving right in the heart of Westminster. I also enjoy riding along the South Bank where there are lots of artistic events, street artists and cafes to enjoy.
Do you have any stories about a person you met because of your love for Brompton?
I got to know a lady from Germany when she visited London to take part in the Brompton race at the London Nocturne a few years ago. She had travelled all the way from Hamburg, specifically to do the race. I was quite impressed, and I have kept in touch with her ever since.
What tips would you give someone thinking about starting to cycle?
I would say, just go for it. Don't get hung up about whether you have the "right gear" or the "right bike". You don't need anything special. Just use whatever bike you have and start off by riding in your local park or a traffic-free path. If you just ride a little bit each day you will get used to bike riding, and you can develop your skills and confidence from there.
Do you remember what you thought when you saw a Brompton for the first time?
I thought the shape was quite unusual compared to other bikes – including other folding bikes, and I found it hard to believe that the bike could actually move very quickly. And then I saw Michael Hutchinson (a former cycle racer and writer) competing on one in the World Brompton Championships!
Do you see that your city is changing as a result of COVID?
I think that the number of cycle lanes and facilities for cyclists in London has been gradually improving since the time I started cycling around the city in 2001. People in other cities and countries had already been commenting on how many cyclists there are in London. However, there has been a distinct increase in the number of cyclists as well as pop-up lanes in the last three months because of the Covid-19 pandemic. I hope that even after things have stabilised following the pandemic, London can still retain this significant cycling culture.
Read more of our model's stories here