Who are the faces behind Brompton's 2021 brochure?
We gathered people from all over London and asked where their favorite places to ride are, what they thought when they saw a Brompton for the first time, and how they've seen their city change throughout the pandemic. This is Ben Tailor-Hamblin, a FinTech Program Manager.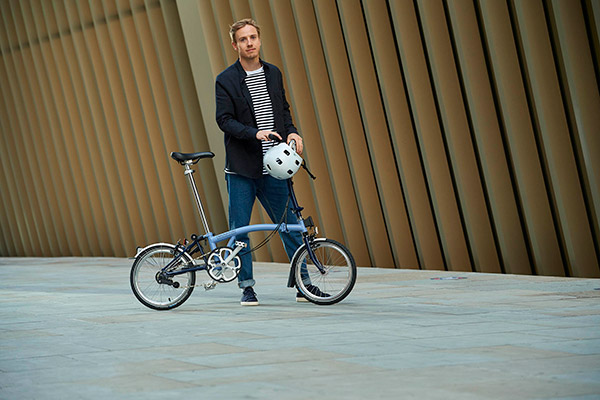 What made you get into cycling, and would you consider yourself a cyclist?
The uplifting freedom of urban self-sufficiency. 100% - I would always avoid all other forms of transport if I could. We often cycle with friends and meet up in local parks.
Where is your favorite place or time to ride?
Once we were living on a boat in Windsor and had to commute to work in London, meaning I had to cycle to the train station in the next town. The route there along the river and down disused trainlines was amazing. I also love discovering all the little back streets and tree-lined roads in London. Especially when the cherry blossoms are out.
It's just you, some gear, and your Brompton in an unknown city (or anywhere in the world!) - where would you want to be and why?
I've already taken my Brompton with me all over the world including Barcelona, NYC, and Canada. I don't feel like you can truly say you're a tourist somewhere unless you've cycled around to see the sights; again it's all about freedom. If I had to pick somewhere new to take my Brompton, then it would be around Lake Garda in Italy.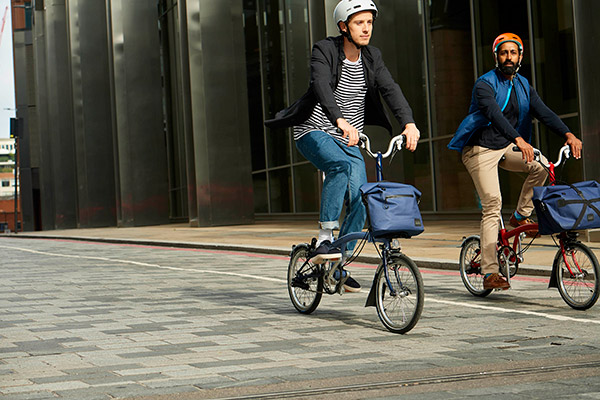 What tips would you give someone thinking about starting to cycle?
I always give this advice. Forget what you think you know about your city. As a pedestrian you tend to walk on busy main roads and only short distances. Your city is much smaller than you think, you can go much further and there's more to explore and see on the quiet back roads with your friends. Your Brompton will reframe how you see your city.
Do you remember what you thought when you saw a Brompton for the first time?
It was a birthday present, so I was over the moon. I needed something which we could store on the boat and would allow me to get to whatever was the nearest public transport or to get direct to work. I loved it immediately.
Do you see that your city is changing as a result of COVID?
I'm so happy that people have been forced onto bikes to understand the freedom you get. Roads are being changed so quickly with one-way systems and additional cycle paths. It was already good but now it will be better. I don't think things will ever be the same.
Read more of our model's stories here.